McHale's Fusion Vario - The Point of difference
11/01/2018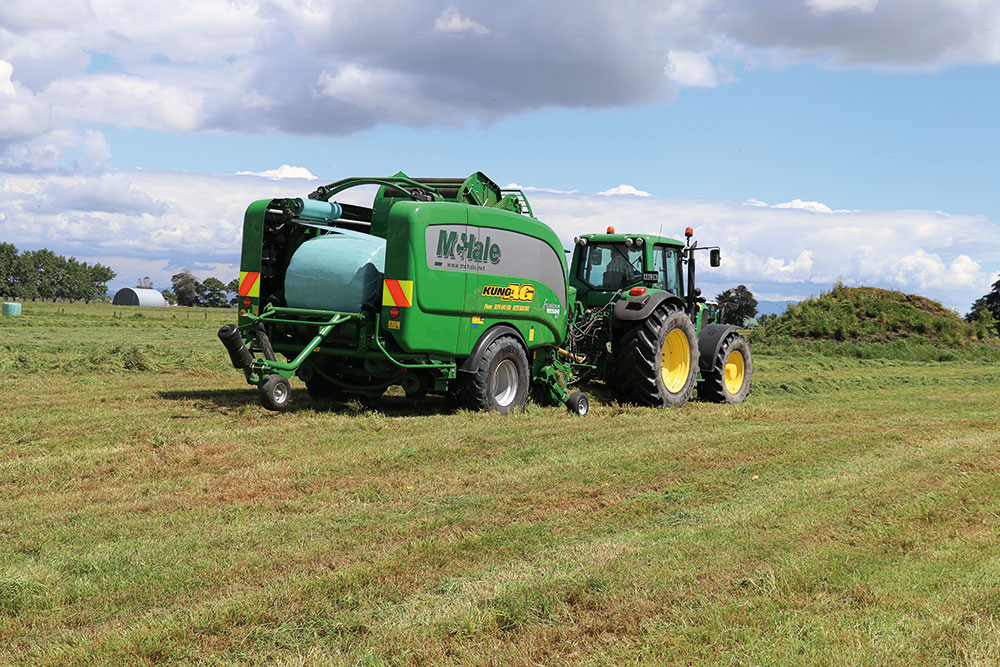 North Waikato contractor says his McHale Fusion Vario baler wrapper is the "Point of difference" for his business. Driven by the aim of producing high quality bales, George Kung of Kung Ag, Ngatea says, "The Fusion Vario Baler Wrapper has a single belt, the bales are built from the centre outwards. Oxygen is squeezed out from the centre, less oxygen in the bale produces the high-quality bales our customers value."

It's not only the quality of the bale that creates a point of difference, but the availability of a variety of bale sizes. The Vario makes hay and straw bales between 0.6m – 1.68m and haylage or silage bales from 1.1m- 1.45m. George finds he can meet the demands of his customers regarding just how much feed they want in each bale.
He said, "Farmers like to feed complete bales rather than leaving an incomplete bale to deteriorate. With the Vario we can meet their exact demands, providing an economic solution to their feed requirements."
The McHale Fusion Vario is known for it's ease-of-use. George confirmed this saying, "The Fusion baler is really simple to operate and run. Everything from start to finish, including bale characteristics are adjusted or monitored through the easy to use iTouch Control console in the cab."

To provide a high volume pick up in all conditions the Vario has an increased diameter intake rotor and large side augers, that combines with the 2m pick up. The new flex floor allows up to 20mm of downward flex to allow lumps to pass through from the pick up rotor. Together, these provide the smooth flow of the increased intake. The hydraulic drop floor system will lower the floor if a blockage does occur.

George commented that, "The way the grass spreads out as it comes off the camless pick up at speed, is impressive. The flexible floor works really well. We are not getting the blockages previously experienced. It's a real help to productivity not to have to stop." When asked about the drop out floor he said, "Oh, we haven't had to use it so far, the flex floor has coped with everything."

The fast and efficient pick up creates a high volume crop flow into the chamber. It is here that the single belt, combined with the density valve and the ultrasonic bale shape indicator, build the highly compressed bale, from the centre.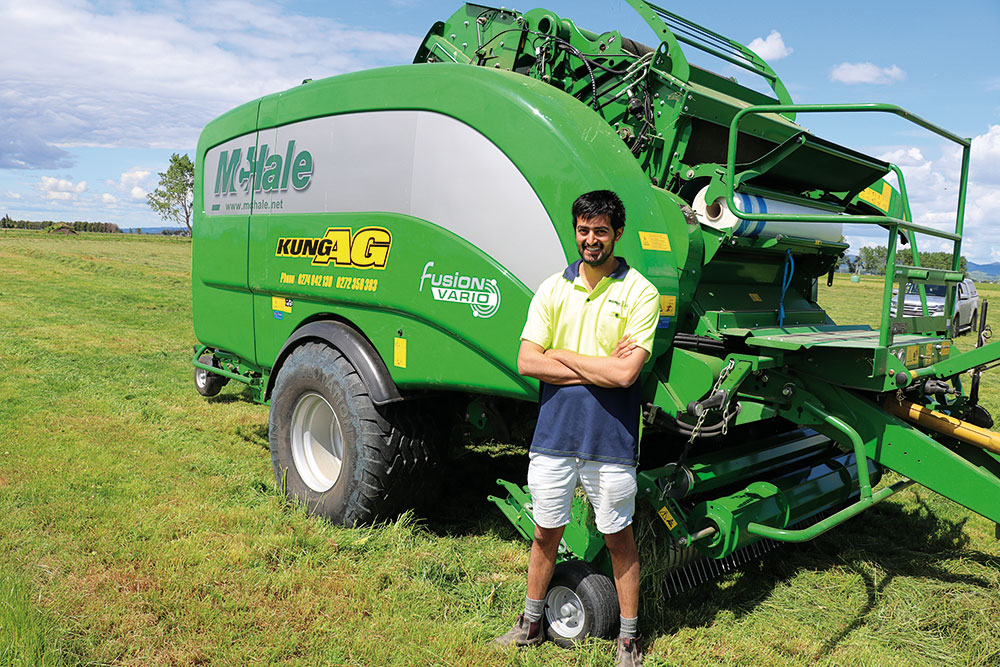 Together these design elements enable the Vario to operate at speed, providing the potential for increased production, alongside producing the high quality product that is George's priority.

He added that, "The single belt seems quieter, there is definitely less crop loss and we have found fuel economies, at 2.5 bales per litre."

A cleaning auger fitted to the secondary drive roller, eliminates contamination in the bale chamber by reducing build up on the drive roller. It enables the Vario to make light of thick, heavy, sticky crops.

The Vario is fitted with the new hydraulic stretch netter as standard. It allows the net tension to be easily adjusted through the control box in the cab as crop or weather conditions change.

According to George, the McHale High Speed Transfer System works well in any terrain. "We are often on undulating ground and the bale transfers quickly and smoothly," he said.

The high-speed vertical wrapping ring applies 4 layers of film to a 1.25m bale in 20 seconds and 6 in 30 seconds. Along with film break sensors, easy film loading and the reliable cut and hold feature, George confirmed, "The wrapping process is easy and synchronises perfectly with the baler allowing high productivity."

He finished by saying, "All round the baler wrapper is very efficient, and it's making the bales we intended it to. Its exactly what we've been chasing."
Click here to find out more about McHale's Fusion Vario
---