Faster speeds & high quality bales, sounds interesting?
11/01/2018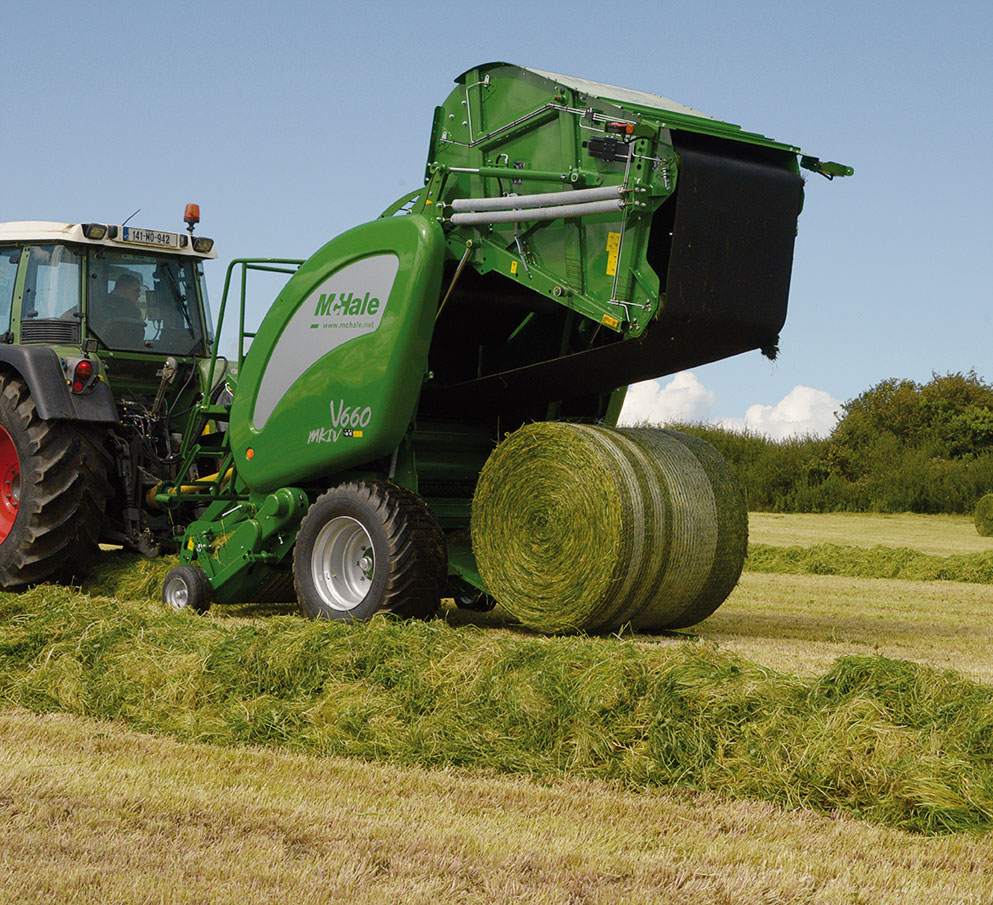 The well established but newly improved McHale V660 baler just got even better.

McHale have just released a single belt model of their V660. It uses the same single belt technology that is incorporated into their Fusion Vario, which has been tested worldwide over several seasons.

Mike Griffiths of Power Farming says, "The benefit of the easy to operate V660 to the farmer, is more product in each bale and less leaf loss due to the single belt system. As a result of the design improvements a higher density bale is achieved, there is less air in the bale, resulting in even higher quality feed in consistently shaped bales."

The biggest benefit of the single belt system is its ease of operation, as there is only one belt in contact with the crop. The single belt eliminates the risk of the crop ending up in the wrong place due to belt slippage. It allows minimal crop loss and the stability of the belt leads to an easy machine to drive.

The single belt combined with further changes in the density system has increased the bale density capacity of these machines. The end result for the baled grass is that with less air and an even higher density achieved, optimum conditions are provided for improving the silage quality of any grass type baled.

To provide a high volume pick up in all conditions, design improvements include new large side augers and a 40mm diameter increase in the intake rotor combined with the 2m pick up. The new flex floor allows up to 20mm of downward flex to allow lumps to pass through from the pick up rotor. Combined, these improvements provide an increased intake. The tried and tested hydraulic drop floor system of the Fusion Series remains to lower the floor if a blockage does occur.

Included in the technical improvements are the new density valve and the ultrasonic bale shape indicator. Together these design elements lead to the V660's ability to operate at fast speeds, giving the potential for increased production.

A cleaning auger is now a standard feature of the V660. Fitted to the secondary drive roller, it eliminates contamination in the bale chamber by reducing build up on the drive roller. It is valuable addition, particularly in heavy and sticky crops.

All McHale V6 machines are now fitted with the new hydraulic stretch netter as standard. It allows the net tension to be easily adjusted through the control box in the cab as crop or weather conditions change.

The fully automated V660 is easy to operate. Its Expert Plus Control Console allows the operator to control bale characteristics and be alerted to issues from within the cab.

The V660's ability to cope with poor rows, lumpy swaths and short wet sticky crop, whilst producing higher density, higher quality, consistently shaped bales is currently meeting the high expectations of McHale loyal customers worldwide.
Click here to learn more about McHale V660
---