Combined Tractors offers full range of services including silage
04/12/2019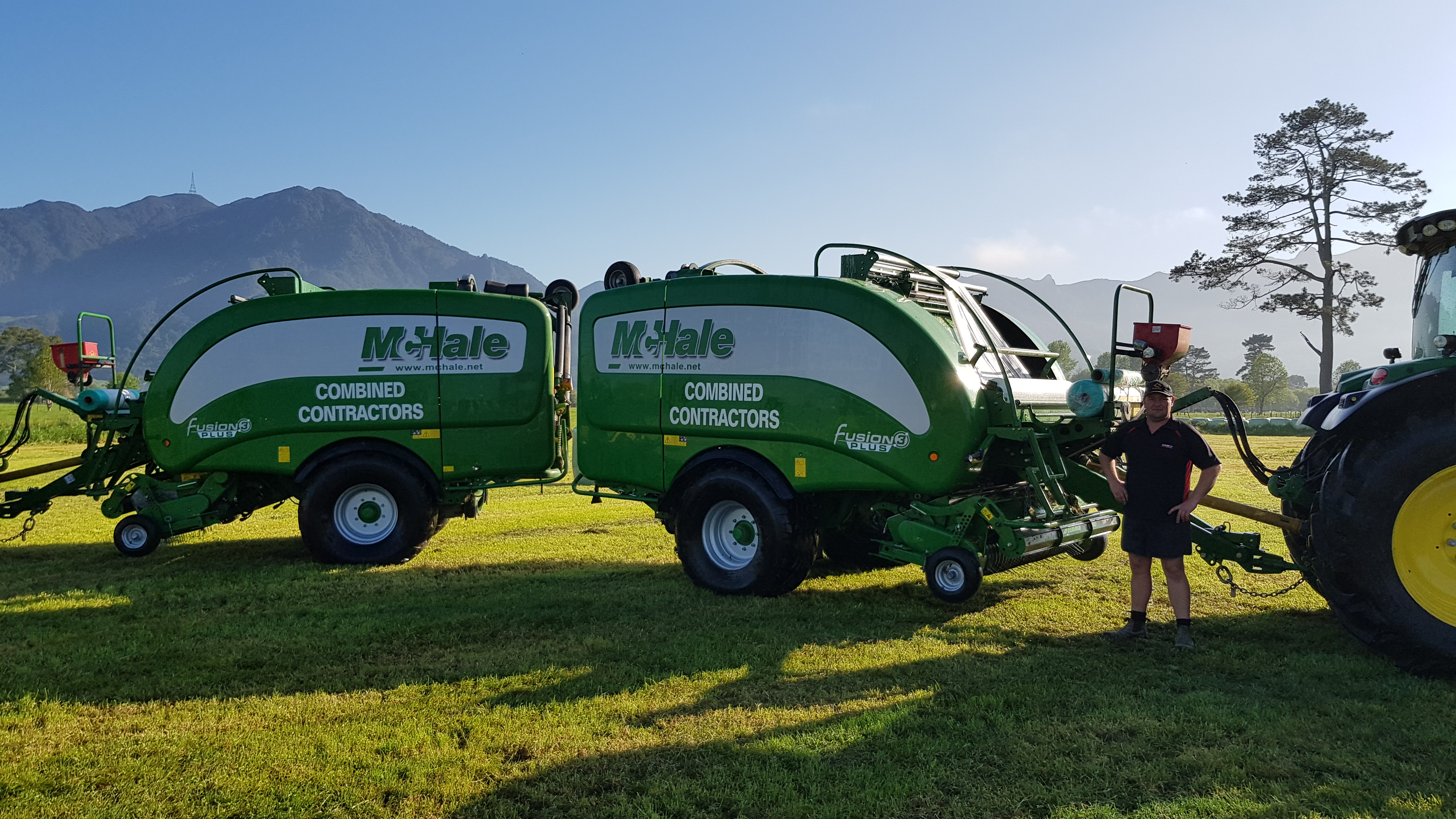 Combined Contractors offers a full range of services including silage, maize, cropping, cultivation and baling within a 30km radius of its Te Aroha base.
A key tenet of the business is to provide "quality over quantity" and maintain a personal service.
It would be safe to say that manager Jonathan Tesselaar is a confirmed McHale baler man, running two McHale's every season, the newest being a 2018 McHale Fusion 3+ film on film and the ninth for the business.
Unusually, the McHale balers get used year-round, typically averaging 10,000 bales during the winter months for goat farmers. Of the 38,000 bales produced last year, about 30% were film on film, with most going to goat farmers who appreciate the high-quality feed, the lack of waste and the ease-of-use.
Film on film technology expels the air early in the wrapping process. When net wrapped is put onto a bale it goes on at 3% stretch, compared with film on film stretch at between 10 and 30% depending on the film. As the bale is wrapped in the bale chamber, it shrinks down as the air is expelled, meaning that it does not expand like a net wrapped bale as it's transferred to the wrapping ring.
"Due to our extended operating season the Fusion are put through the wringer: wet silage, dry silage, rain silage, it seems to be able to cope with anything, which suits our winter silage operation perfectly," Tesselaar said.
"In our opinion, they are literally the best on the market because of the low-cost of maintenance to get to 40,000 bales."
He says the machine's reliability and ability to produce an extremely high quality product means they change the balers after 40,000 bales. That's about every three to four years.
"We've seen bale weights of up to 1.3 tonnes in the wet, so while it's not great quality, farmers can feed it out within 12 to 14 days without losing anything."
"It suits the goat farmers, particularly during kidding when their cut and carry operation can't keep up. We do all the work to get feed to the shed; they simply have to feed it out."
The business uses 1.4m wide, Trio Bale Compressor net replacement film as it folds over the edge of the bale, providing an optimum seal with the subsequent exterior bale wrap.
"It's definitely the way to go, being a more rigid film than others and ensures the bale is held tight whilst being wrapped."
"It holds the bale in perfect shape making it better to stack, and it's durable, so unlikely to get damaged on the roll."
Tesselaar is relaxed and looking ahead confidently to the 2019 season.
"I'm completely happy with our McHale Fusion 3+'s. I wouldn't think of going to anything else. They are definitely the best of the best so we'll be sticking with our McHale Fusion renewal programme."
Written by Mark Daniel
---